strategy+business, Feb. 22, 2017

by Theodore Kinni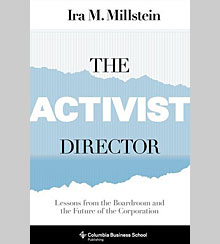 Ira M. Millstein opens his new book, The Activist Director (Columbia University Press, 2016),
a mashup of memoir and handbook, as if he were standing in front of a jury. "I will
build the case for adopting a board-centric approach to corporate governance by placing more activist directors in the boardroom — people who will ask the tough questions, challenge management practices, and resist those who put their own agendas ahead of those of the corporation and investors like you," writes Millstein, the senior partner at corporate law firm Weil, Gotshal & Manges and adjunct professor at Columbia Law School. "Some will call this pie-in-the-sky idealism. I prefer to call it pragmatic optimism."

In addition to being an optimist, 90-year-old Millstein is a patient man. He has been making this particular argument for nearly 40 years, since the late 1970s, when he began helping the Business Roundtable draft a series of reports that defined the role and responsibilities of boards. At the time, shareholder activism was starting to manifest itself in leveraged buyouts and hostile takeovers, and Millstein wanted "to ensure that boards exert some initiative to restore corporate competitiveness."

Toward this end, Millstein didn't simply write about boards — he advised them. And he advised them to be aggressive. Most notably, he served as external counsel to the board of General Motors for about a decade starting in 1985. During that period, GM was losing money and market share. Yet chairman and CEO Roger Smith, the "Roger" in Michael Moore's scathing documentary Roger and Me, refused to treat the board as anything more than a rubber stamp — which was the de rigueur role of most corporate boards. Braving Smith's legendary temper, Millstein helped GM's board find its feet. And when Smith retired, he advised the board as it took a more active role in governance — hiring Robert Stempel as CEO and then, within two years, firing him and other members of GM's senior management team when they did not move quickly enough to right the ship. Read the rest here.