strategy + business, November 22, 2017

by Theodore Kinni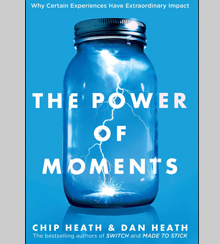 Quick question. Customers rank their interactions with your company on a scale of 1 (very negative) to 7 (very positive). Should you invest more resources in improving the experiences of customers who rank their interactions at a 1, 2, or 3, or those who rank them at a 4, 5, or 6?

When brothers Chip and Dan Heath, a professor at Stanford Graduate School of Business and a senior fellow at Duke University's CASE Center, respectively, asked executives how they invest their resources, the executives estimated that, on average, their companies spend 80 percent of their resources trying to improve the experiences of their unhappiest customers. Yet, report the Heaths, in 2016, when Forrester Research tabulated its annual U.S. Customer Experience Index and modeled the financial results in 16 industries, it discovered that "there's nine times more to gain by elevating positive customers than by eliminating negative ones."

This finding supports the main point in The Power of Moments, the latest in a series of formulaic but insightful books by the Heaths that seek to illuminate questions with important business ramifications, such as how to make ideas sticky and how to create change successfully. The point in this case is that "positive defining moments" can produce extraordinary effects in both individuals and organizations. The book explains how such moments are created. Read the rest here.