strategy+business, June 13, 2019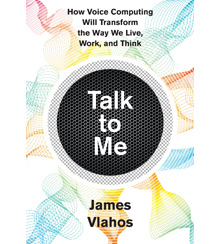 by Theodore Kinni

Steve Jobs could be relentless when he wanted something. In early 2010, he wanted a small startup in San Jose, Calif. CEO Dag Kittlaus and his cofounders had just raised a second round of funding and didn't want to sell. Jobs called Kittlaus for 37 days straight, until he wrangled and wheedled a deal to buy the two-year-old venture for Apple at a price reportedly between US$150 million and $200 million. The company was Siri Inc.

Wired contributor James Vlahos tells the story of how Siri took up permanent residence in the iPhone in his new book, Talk to Me. It's the first nontechnical book on voice computing that I've seen and a must-read if you have any interest in the topic.

Vlahos spends the first third of Talk to Me describing the platform war currently raging in voice computing. It details the race among the big players, including Amazon, Google, and Apple, to embed AI-driven voices in as many different devices as possible, as they seek to dominate the emerging ecosystem. The fact that Amazon now has more than 10,000 employees working on Alexa provides a good sense of the dimensions of that race.

But voice computing is more than a platform play. It is likely to have ramifications and applications for every company, especially if Vlahos's contention that "the advent of voice computing is a watershed moment in human history" turns out to be right.

"Voice is becoming the universal remote to reality, a means to control any and every piece of technology," he writes. "Voice allows us to command an army of digital helpers — administrative assistants, concierges, housekeepers, butlers, advisors, babysitters, librarians, and entertainers." Voice will disrupt the business models of powerful companies — and create new opportunities for upstarts — in part because it will put AI directly in the control of consumers, Vlahos argues. "And voice introduces the world to relationships long prophesied by science fiction — ones in which personified AIs become our helpers, watchdogs, oracles, and friends." Read the rest here.