strategy+business, April 30, 2019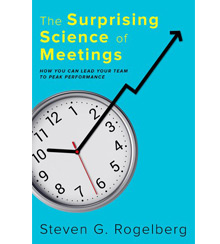 by Theodore Kinni

Aldous Huxley had it wrong. Bad meetings — not mescaline — open the doors of perception. They lull me into a trance. I occasionally surface (did I snore?), murmur agreement (to who knows what), surreptitiously check my phone, and nod off again. If the deep breathing I often hear on conference calls is any clue, I'm not the only one who achieves spiritual transcendence in bad meetings.

The authors of how-to books about meetings never consider the salutary effects of bad ones. Instead, they typically start with an adrenalin-like shot of statistics. Steven Rogelberg, Chancellor's Professor at University of North Carolina, Charlotte, and author of The Surprising Science of Meetings, is no exception to the rule. He offers the usual litany of dismay. There are about 55 million meetings per day in the U.S. alone, and they cost US$1.4 trillion annually, not counting indirect costs such as employee frustration. "Too many meetings" is cited as the top time-waster by 47 percent of U.S. workers.

Nevertheless, Rogelberg doesn't think that companies should eliminate meetings. "Was the great management guru Peter Drucker correct when he said, 'Meetings are a symptom of bad organization. The fewer meetings, the better'?" Rogelberg asks. "The answer is an emphatic 'no.' Abolishing meetings is a false solution. Schedules with too few meetings are associated with substantial risks for employees, leaders, teams, and organizations." Instead, the author advises breaking the cycle of bad meetings with the application of meeting science.

If anybody has a claim on the role of meeting scientist, it's Rogelberg. He has been researching meetings using field surveys, laboratory studies, and experiments incorporating planted accomplices for 15 years. In this book, he weaves his findings and the research of others into an evidence-based approach to meetings that is sometimes eye-opening. Read the rest here.