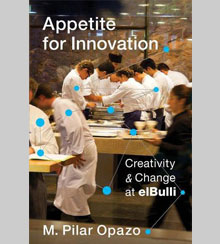 In 2010, elBulli was named the second-best restaurant in the world. In 2011, superstar chef and co-owner Ferran Adrià shuttered the small restaurant in a small town on Spain's Mediterranean coast, marking the end of a remarkable, three-decade run of culinary success. By that time, Adrià and his staff were receiving 2 million requests for reservations annually — from people who were willing to travel to the northeastern corner of Spain to eat the 8,000 meals conjured up during the six months the restaurant was open each year. Moreover, 3,000 or so of the world's most talented culinary pros were applying for elBulli's 30 unpaid internships.
What accounted for this unprecedented level of demand from foodies and the people who feed them? In Appetite for Innovation: Creativity and Change at elBulli (Columbia University Press, 2016), M. Pilar Opazo, a post-doctoral research scholar at Columbia Business School, says that it was the "search for radical innovation and endless reinvention."
Adrià, of course, plays a leading role in the book. A culinary autodidact who started as a dishwasher, he began working at elBulli, a one-star Michelin restaurant serving French nouvelle cuisine, as a temporary intern in 1983. By 1990, when elBulli, then serving a locally inspired Mediterranean menu, earned its second Michelin star, he was its co-owner.
"We could have kept doing the Mediterranean style forever.… But we didn't. I don't really know why," Adrià tells Opazo. Then, after a pause, "Well…we got bored. That's why." Read the rest here