strategy+business, August 3, 2016
A few pages into Lead and Disrupt: How to Solve the Innovator's Dilemma (Stanford University Press, 2016), business professors Charles A. O'Reilly III and Michael L. Tushman present two lists of companies. At first glance, there doesn't seem to be too much difference between them. Each features 27 companies, most with familiar names and long histories, such as GM, Siemens, and Lego.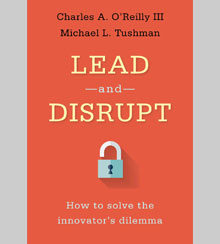 The second list includes some dead companies — such as Circuit City and Bethlehem Steel — and some companies that are shadows of their former selves, such as RadioShack. But the histories of the companies on the first list reveal that many of them have experienced their fair share of hard times, too. For example, the French media conglomerate Vivendi endured a period of turmoil after a series of aggressive acquisitions in the late 1990s.

Nevertheless, O'Reilly, the Frank E. Buck Professor of Management at Stanford's Graduate School of Business, and Tushman, the Paul R. Lawrence MBA Class of 1942 Professor of Business Administration at Harvard Business School, see a clear difference in the success of the companies on the two lists. And they peg leadership as its source.

The companies on the first list, they contend, "had ambidextrous leaders who were able and willing to exploit existing assets and capabilities in mature businesses and, when needed, reconfigure these to develop new strengths." The companies on the second list were not so lucky. Their leaders, say the authors, "were rigid in one way or another — unable or unwilling to sense new opportunities and to reconfigure the firm's assets in ways that permitted the company to continue to survive and prosper." Read the rest here.