strategy+business
, October 19, 2016
by Theodore Kinni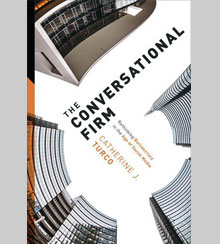 In 2012,
Catherine Turco
became increasingly intrigued by what she saw as a corporate preoccupation with openness. The open communication, decision processes, innovation, and offices in Web 2.0 companies like Facebook and Google were on their way to becoming corporate memes. And stalwarts like IBM and GE were making well-publicized forays into
wikis
and
crowd-sourced product development
. In particular, the associate professor of organizational studies at the MIT Sloan School of Management was struck by the gospel of "radical openness" being fervently preached by the leaders of a fast-growing, 600-employee social media firm, which she identifies only as TechCo.
"'Could this work?' I wondered," recalls Turco. "Maybe it was all talk — a savvy presentation of corporate self that masked the same bureaucratic and hierarchical practices firms have had for years. Then again, maybe it would carry lessons for how corporations really could change. One December morning I woke up and decided I had to study TechCo."
Turco devoted 10 months to that study, spending four days per week at the company; conducting nearly 100 interviews with 77 employees, including the senior leadership team; shadowing and socializing with employees; and attending innumerable meetings during and after work hours, as well as the week-long new employee training program. The welcome result of her immersion into all things TechCo is
The Conversational Firm: Rethinking Bureaucracy in the Age of Social Media
(Columbia University Press, 2016). This well-written, insightful ethnographic study solidly establishes the notion that hierarchical command-and-control structures and distributed decision-making structures (like
holacracy
) are not the only choices for managing a company.
Read the rest here.