strategy+business, June 12, 2017

by Theodore Kinni

A decade after presidential candidate Barack Obama first declared comprehensive healthcare reform a central tenet of his platform — and seven decades after President Harry S. Truman proposed a national healthcare plan — the issue still stands at the center of political debate. In 2017, a Republican-dominated Congress and a new Republican president are grappling with their own comprehensive plan.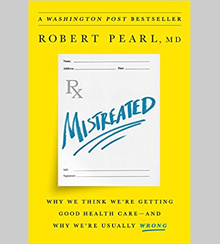 But even if the Affordable Care Act is repealed and replaced,
Dr. Robert Pearl
believes U.S. consumers and companies are unlikely to get any relief from rising costs. That's what Pearl argues in his no-holds-barred book,
Mistreated
. This line of argument is dismaying and more than a little surprising, especially considering that Pearl isn't an academic, or an activist, or a pundit with a shallow outsider's knowledge of the industry. For nearly 20 years, until this month, he was the CEO of the Permanente Medical Group, which is a subsidiary of California-based managed-care giant Kaiser Permanente as well as the largest provider network in the nation in its own right, with more than 9,000 physicians and 34,000 staff members. In other words, he's one of the people who manage a significant chunk of our increasingly unaffordable medical care.
"As we look toward the future, the economics of healthcare are shaping up to be a classic example of the unstoppable force meeting the immovable object," Pearl writes. "The rising percentage of total dollars spent on healthcare (unstoppable force) and the limited ability of government, businesses, and individuals to pay for it (immovable object) are on a collision course. Something has to give."
In
Mistreated
, Pearl argues that it doesn't really matter
who
pays for healthcare, which has been the primary focus of the decade-long reform debate. Read the rest here